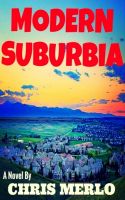 Published: March 21, 2013
Words: 70,148 (approximate)
Language: English
ISBN: 9781301183210
Set in the fictional suburb of Teal County,it seems to be filled with every form of entertaining consumption one could desire. Expenses were not spared in producing this lavish and clean looking suburb, along with creating an effective and expanded judicial and policing system and a wide and over reaching corporate industry.
But not everyone finds Teal County to be so fantastic. A young man by the name of Nathan Grant, who has a bitter love-hate relationship with the County he was raised in, is heading back after a long absence in hopes of finishing one last job, part of which includes transporting a very valuable item. The crudeness of the County officials had ironically been both the inspiration for his plans, and now was an abrupt interruption to them, as his freedom in the County is cut short just as soon as he arrives.
From there, the story's woven tapestries begins to unravel, and we find foes of Nathan with a set of their own agendas in mind, as well as friends willing to help. With the aid of his friends, Emily, a highly attractive party going drug user, and Aiden, a capable well to do computer genius, among others, Nathan must prevail through the hurdles made by County authorities that stand in his way as he tries to complete a task for Martin Benson, a sleazy corporate high roller. Little does Benson know, Nathan has a few alternative plans of his own for Benson, and little does Nathan know, he might be getting into more hot water than he bargained for. After it is revealed Benson has ties with Falco Dietrich, a German terrorist, along with a handful of his cohorts, and it would also seem the highly effective FBI team of Agent's Simms and Harris has secretly had an eye on Benson for quite some time, several culminating moments of action and deceptions determine the fates of these characters. All while in the midst of negotiating through the complexities of the modern suburb of Teal County. But even when cornered, Nathan proves his wide knowledge of the town he grew up in can give him a tricky advantage, and that he may have more than one motive for why he chose to target Benson in his plans.
Meet the author
My name is Chris Merlo and I am a 33 year old suburbanite, born and raised, which might hint as to the inspiration for my book. I'm an athletic and eclectic type who enjoys the deliciousness of all that the arts has to offer, which includes the art of writing. I have written poems, essays, speeches, songs, short stories, and now my first novel. Another passion of mine is friends and family, and I love being around people and the social life – consider me like a social butterfly. It seems there's not enough time in one day to do all of the things my hyper ADD mind would like to do, but being busy is certainly something I'm good at. Life is rarely boring for me.
Twitter @ChrismMerlo
Buy the book on Amazon