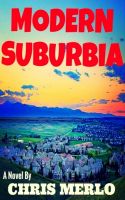 Published: March 21, 2013
Words: 70,148 (approximate)
Language: English
ISBN: 9781301183210
Set in the fictional suburb of Teal County, it seems to be filled with every form of entertaining consumption one could desire. Sounds perfect on the outside, but you know what lurks in the perfect neighborhoods right? Lies, some truths, secrets, and social drama. This was a great debut. I enjoyed it very much, more because of the attention to details and characters. I adore when a book gets you to really become engrossed. Nothing like paying attention to something and forgetting the world. I always say there is a book for every mood. This will be appealing to the broad spectrum. Men and woman alike will really enjoy it.
Nathan and his tech buddy Aiden are the main characters. Nathan was meticulous in planning his, let us say events for now. They reminded me of how JR Ewing was back in the day. Just ruthless in business and keeping secrets.  Around every corner I waited for Nathan to get busted, but in Larry Hagman fashion, he has a trick up his sleeve. I loved all the twists and turns this novel went on.
So Nathan heading back to his roots to finish one last thing. Does it work? Yes a very enjoyable journey and a great debut. There are a lot of rich characters from the FBI guys to Emily and Aiden. For sure a must read!
Meet the author
My name is Chris Merlo and I am a 33 year old suburbanite, born and raised, which might hint as to the inspiration for my book. I'm an athletic and eclectic type who enjoys the deliciousness of all that the arts has to offer, which includes the art of writing. I have written poems, essays, speeches, songs, short stories, and now my first novel. Another passion of mine is friends and family, and I love being around people and the social life – consider me like a social butterfly. It seems there's not enough time in one day to do all of the things my hyper ADD mind would like to do, but being busy is certainly something I'm good at. Life is rarely boring for me.
Twitter @ChrismMerlo
Buy the book on Amazon